GREEN DAY ANUNCIA SU NUEVO SENCILLO "FATHER OF ALL MOTHERFUCKERS"
GREEN DAY ANUNCIA SU NUEVO SENCILLO
"FATHER OF ALL MOTHERFUCKERS"
LA PRIMERA CANCIÓN DE SU PRÓXIMO ÁLBUM DISPONIBLE EL 7 DE FEBRERO DEL 2020
TAMBIÉN SE HA ANUNCIADO EL HELLA MEGA TOUR PRESENTADO POR HARLEY- DAVIDSON EN EL CUAL SE INCLUYEN CONCIERTOS DE GREEN DAY EN SOLITARIO Y OTRAS FECHAS CON FALL OUT BOY, WEEZER Y THE INTERRUPTERS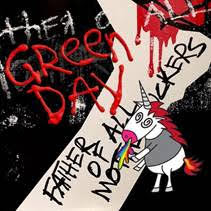 Los 5 veces ganadores de Grammy y aceptados en Rock and Roll Hall of Fame "Green Day" presentan su nuevo sencillo "FATHER OF ALL MOTHERFUCKERS" que será la primera canción de su decimotercer álbum de estudio y que tendrá el mismo nombre. Este nuevo trabajo discográfico estará disponible el próximo 7 de febrero del 2020 Reprise / Warner Records. 
Los íconos del punk rock han anunciado también una gira mundial que llenará estadios en todos los rincones del planeta al lado de Fall Out Boy y Weezer. Esta maratónica gira tendrá por nombre The Hella Mega Tour presentado por Harley – Davidson inicia el 13 de junio en Paris y estará en diferentes ciudades de Europa, UK y Norte América. Adicionalmente "Green Day" tendrá unas fechas de conciertos en solitario por Asia y Europa.
Creada en 1986 en Berkeley, California, "Green Day" Es una de las bandas que más discos ha vendido en la historia con más de 70 millones discos y 10 billones de streamings de audio/video en las plataformas de descarga digital. La salida del álbum Dookie en 1994, el cual logró mas de 10 millones de unidades vendidas logró traer de vuelta la actitud y la fuerza del punk rock a una nueva generación que lo asumió como propio. Este fuel inicio de una larga historia de números uno y otra buena cantidad de logros únicos de "Green Day".
Entertainment Weekly califica a "Green Day" como: "La banda que más influenció a esa generación de los 90", Mientras que Rolling Stone afirma: "Aparte de Kiss, "Green Day" es el grupo que más ha inspirado a los jóvenes a tener su propia banda".
En el 2004 "Green Day" lanzó su opera rock "American Idiot" que logró capturar la atención de una nación y vendió más de 7 millones de copias solo en los Estados Unidos y les dio el Grammy por Mejor Álbum Rock. Este disco también pasará a la historia como el álbum punk rock con mayor contenido político y autocrítico de una sociedad. Un disco Punk Rock del siglo 21 que logró ser adaptado y llevado al teatro: Desde el 2010 American Idiot es ahora una obra reconocida y muy aclamada en Broadway.
THE HELLA MEGA TOUR
GREEN DAY – FALL OUT BOY – WEEZER – THE INTERRUPTERS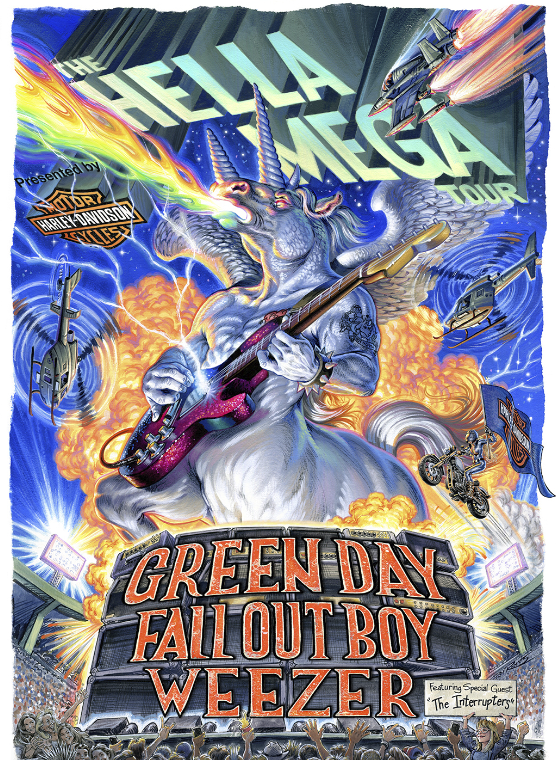 Green Day Solo Dates:
DATE                                     CITY                                       VENUE
Sunday, March 8               SINGAPORE, SG                Singapore Indoor Stadium
Wednesday, March 11   BANGKOK, TH                    Impact Arena
Saturday, March 14         MANILA, PH                       Mall of Asia Arena
Tuesday, March 17           TAIPEI, TW                          Taipei Arena
Friday, March 20               HONG KONG, CN              Asia World Expo
Sunday, March 22            SEOUL, KR                           Jamsil Indoor Gym
Wednesday, March 25   OSAKA, JP                           Intex
Friday, March 27               TOKYO, JP                            Makuhari, Messe
Sunday, May 24                 MOSCOW, RU                    Spartak Stadium
Wednesday, May 27       HELSINKI, FI                        Suvilhati
Friday, May 29                   STOCKHOLM, SE               Tele2 Arena
Sunday, May 31                 ALESUND, NO                    Colorline Stadium
*Wednesday, June 3       BERLIN, GER                       Wuhlheide
*Wednesday, June 10    MILAN, ITL                          Ippodromo San Siro
*With Weezer
THE HELLA MEGA TOUR Europe & UK Dates:
DATE                                     CITY                                           VENUE          
Saturday, June 13             PARIS, FRANCE                                  La Defense Arena
Sunday, June 14                GRONINGEN, NETHERLANDS      Stadspark
Wednesday, June 17       ANTWERP, BELGIUM                      Sportpaleis
Sunday, June 21                VIENNA, AUSTRIA                            Ernst Happel Stadium
Wednesday, June 24       GLASGOW, SCOTLAND                  Bellahouston Park
Friday, June 26                  LONDON, ENGLAND                       London Stadium
Saturday, June 27             HUDDERSFIELD, ENGLAND           The John Smith's Stadium
Monday, June 29              DUBLIN, IRELAND                             RDS Arena
THE HELLA MEGA TOUR North American Dates:
DATE                                     CITY                                           VENUE            
Friday, July 17                    SEATTLE, WA                                      T-Mobile Park
Tuesday, July 21                SAN FRANCISCO, CA                       Oracle Park
Friday, July 24                    SAN DIEGO, CA                                  Petco Park
Saturday, July 25               LOS ANGELES, CA                             Dodger Stadium
Tuesday, July 28                COMMERCE CITY, CO                      DICK's Sporting Goods Park
Friday, July 31                    ARLINGTON, TX                                Globe Life Field
Saturday, August 1           HOUSTON, TX                                    Minute Maid Park
Wednesday, August 5    MIAMI, FL                                           Hard Rock Stadium
Thursday, August 6          JACKSONVILLE, FL                            TIAA Bank Field
Gracias
Daniela Prócel Villalba
​Warner Music​
Promoción Artística – R.R.P.P – Medios – Eventos – Comunicación
Celular: (593) 98 426 4811